The Karate Kid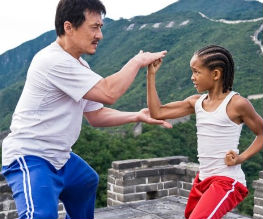 Everybody was Kung Fu fighting
The film sticks very close to the original, but smartly changes the action to China, where martial arts look a hell of a lot cooler. A reluctant 12 year old Dre (Jaden Smith) and his Mother (Taraji P. Henson) move for barely credible reasons to Beijing, where Dre gets a crush pretty violin player Meiying (Wenwen Han), much to the chagrin of the other boys at their school, who mock him and his lack of real martial arts knowledge, calling him, 'the karate kid' (title justified. Ker-Ching). They attempt to beat Dre up, but he is saved by the mysterious maintenance man at his apartment building Mr. Han (Jackie Chan), who grudgingly agrees to teach him Kung-Fu so that the bullies will leave him alone. Cue training montages, life lessons and a Kung-Fu tournament showdown.
[FLOWPLAYER=http://uk.image-1.filmtrailer.com/30288.jpg|http://uk.clip-1.filmtrailer.com/3787_11912_a_4.mov,275,180]
The Fresh Prince of Beijing
Will Smith engineered this remake to act as a star vehicle for his son, so it is to Jaden Smith's credit that he manages to make you feel that he deserves to be there off his own back. He is able to express a wealth of emotion going on beneath his laid-back exterior, and compliment's Jackie Chan's Mr. Han wonderfully. While their pairing doesn't fully convince, particularly when Mr. Han opens up about his past, they do well in fast paced and lighthearted scenes. Jackie Chan is almost revelatory as Mr. Han, remaining remarkably self contained in his most subtle performance to date. His performance naturally pales in comparison to Pat Morita's Oscar nominated Mr. Miyagi from the original The Karate Kid film, but Dre and Mr. Han feel like an individual team in their own right and stave off comparisons to the original.
Too much, too young
While on the whole, Chan and Smith satisfy, one can't help but feel there is something missing – years. Both Chan and Smith are too young for their parts. Chan's Mr. Han has youthfulness about his anger and bitterness – it burns too close to the surface and makes Mr. Han seem too unstable to be a proper mentor. Morita as Mr. Miyagi could do grumpy, kindly and damaged, yet still seem serene and reliable – Chan feels like a ticking time bomb of emotion just waiting to explode. Smith also feels far too young, lacking the necessary romantic energy or angry teenage hormones that drove the original film. Smith was only eleven when The Karate Kid was filmed, and hence his scenes with Meiying feel rather creepy given his young age. Romantic charisma doesn't come before chest hair, and his awkward attempt at flirting feels like a pale imitation of his father that inches annoyingly onto the wrong side of precocious. His is not a teen on the verge of manhood with a real need to prove himself to his peers, but a child, with child sized bullies and a child sized love interest that offer only pithy motives to justify Dre's desire to succeed. Without any real urgency for Dre to compete, the film feels uninvolving, meandering and, at 140 minutes far too long.
One, two, do the Kung Fu
Overall however, these faults feel minor, and Zwart makes the film look good enough to make you forget its flaws. The Chinese location is used to full effect, giving the film an epic feel. The fight scenes are also used well – brutal and dazzling, you feel that Dre may actually be in real danger in his Kung Fu battles. This glossy finish makes Zwart's bland film feel entertaining enough, as it blandly goes through the motions of the original in an inoffensive way. Faint praise perhaps, but in a world of increasingly dreadful remakes, Zwart's harmless retread is arguably better than fans of the original The Karate Kid expected it to be.
About The Author