The Debt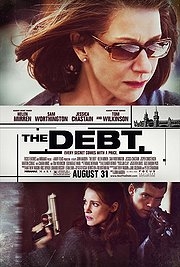 Blimey, we're being spoilt for gritty Cold War thrillers at the moment. Following hard on the heels of Tinker Tailor Soldier Spy (and sharing a screenwriter with it in the form of Peter 'Don't mention How to Lose Friends…' Straughan), The Debt blends tense set-pieces worthy of the very best class of thriller with an intriguing and morally shadowy plot worthy of Le Carré himself. AND Helen Mirren's in it playing James Bond. What more do you want?
The year is 1997, and Israeli journalist Sarah (Romi Aboulafia) has just completed a book on one of the most daring raids ever accomplished by Mossad – in 1965, three undercover agents were smuggled into East Berlin to catch Nazi war criminal Dieter Fogel (Christiansen), the Surgeon of Birkenau. After a difficult and nearly abortive mission, the team returned from behind the Iron Curtain with news of Fogel's death at the hands of Rachel Singer (Chastain/Mirren); Singer and her comrades Stefan (Csokas/Wilkinson) and David (Worthington/Hinds) have been national heroes ever since. Stefan and Rachel are Sarah's (estranged) parents, and her book is a testimony to their selfless patriotism.
However, all was not as it seemed in Berlin and Rachel came home with more than a chestful of medals, an unborn daughter and a scarred cheek; she also limped through passport control with a secret she has kept ever since. When Stefan contacts Rachel with the news that David, only recently returned from an unexplained twenty-five year absence, has killed himself – and that an old man claiming to be Fogel has turned up in a Ukrainian hospital – Rachel is drawn inexorably back into a world she has spent half her life trying to forget. But whether she wants to be involved or not, the debt she owes must at some point be repaid…
Ultimately, the entire raison d'être of The Debt hinge on one extraordinary plot point, a spectacular reveal which, at a stroke, changes the entire course of the film – you'll have to excuse me being a bit coy, but it really is vital that you don't pick up on it. This device gave director John Madden the unusual challenge of having to build tension steadily throughout the first two acts, drawing the audience in so far that the abrupt change of direction doesn't leave too many viewers losing their grip like passengers clinging to the outside of a jinking Indian train. Against all the odds, he manages it; despite the incessant switching between Helen Mirren-era Tel Aviv and Jessica Chastain-era East Berlin, The Debt gets steadily more nail-biting for almost the entirety of its two-hour running time.
The central cast are universally cracking – Mirren, Wilkinson and Hinds are all utterly superb, obviously, but their younger counterparts are just as enjoyable. Even Sam Worthington manages to do some acting (after Last Night I genuinely didn't think he knew how), and relative newcomer Jessica Chastain's courageous performance marks her out as one to watch. Unfortunately, the final scene is inexplicably clumsy and hackneyed, and even the screenwriting dream team of Straughan, Matthew Vaughn and Jane Goldman couldn't oil the last few squeaks out of the dialogue; still, these are not huge problems and they don't stop The Debt being an enormously watchable film.
The Debt has been sitting in a warehouse somewhere for at least fifteen months; heaven only knows why it's taken this long to be released. Exciting, thought-provoking and unfazed by the prospect of tackling the Holocaust in what is essentially a thriller, it's excellent.
About The Author