Toy Story 2: The 3D Experience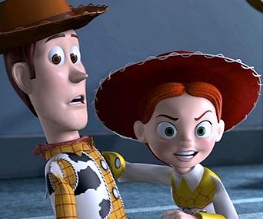 With the much anticipated release of Toy Story 3 coming up in June, it's not surprising that Disney want to remind us of why we're so excited. Toy Story 2 is playing in selected cinemas in 3D, and for those who have yet to get their greasy mitts on the DVD, it's well worth a trip down memory lane. Rarely has a sequel of an acclaimed original film been so well received, with some critics (and kids and big kids alike) believing it to be even better than the original.
Child's Play
Though Toy Story 2 3D is not the immersive, mind-blowing experience that watching Avatar is, there's no denying that this film only gets better with the added technology. And the difference is that – unlike Avatar – Toy Story 2 never had to rely on its special effects to captivate your attention.
For the three people in the world that don't know, here's the story so far. Much loved toys Woody the cowboy (voiced by Tom Hanks) and Buzz Lightyear (Tim Allen) have finally resolved their differences and look forward to a happy future together being treasured by owner Andy. But tragedy strikes when Andy's mom accidentally puts Woody in a yard sale and he's picked up by collector Al, owner of Al's Toy Barn. Transported to a strange new home, Woody suddenly learns that he is a valuable "Woody's Roundup" collectable, and along with Jessie the cowgirl and Bullseye the toy horse learns that he is to be sold to a Japanese museum. What follows is a funny, exciting and often heart-breakingly poignant look at the relationship between toys and kids, adults and children as Woody learns that he cannot be loved by Andy forever, that he, like all children, will eventually grow up.
To a third film, and beyond
The story is as wonderful to watch as it was when it first came out, and the scene when Jessie relates her own heartbreak at losing her owner Emily is as moving as anything you'll see in recent box office smash Up. The 3D certainly adds a lot to the beauty of the film, as the added effects mean that you are all the more transported into the world of the toys and their adventures; characters look more rounded and perspective is greatly enhanced. But, to be honest, that's not why this film is worth watching again on the big screen. This is quite simply an exquisite example of a kids film for grownups too; funny, smart, beautifully made and perfectly crafted. If you get a chance to go and watch it, you won't be disappointed. We can only hope that number 3 matches its predecessor. And that we don't cry quite as much when we go and watch it. Embarrassing for everyone concerned.
What are your thoughts about Toy Story 3? A great idea, or should Disney quit while they're ahead? Let us know below!
About The Author