WIN: 1 x 3 Confucius DVDs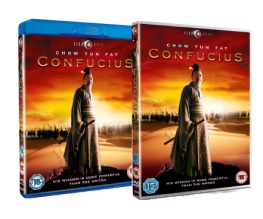 Released to own on DVD and Blu-ray 4 October 2010
From the acclaimed producer of John Woo's Red Cliff and Jet Li's Warlords comes a sweepingly grand biopic of the legendary Chinese philosopher Confucius – the role of the venerable one being played by Chow Yun-Fat in one of the performances of his career.
Chinese epice Confucius delivers on a grand scale, balancing breathtaking spectacle, visceral action and nuanced drama to deliver an epic drenched in richly cinematographic beauty.
In 500 BC, Kong Ze (Confucius), a commoner revered for his outstanding wisdom, is made Minister of Law in the ancient Kingdom of Lu. Under his inspired leadership, Lu ascends to new heights but becomes a target of conquest for the warlike nation of Qi.
The desperate citizens of Lu turn to Confucius to lead their most powerful army. When their greatest teacher delivers a stunning victory against all odds, a jealous aristocracy sets out to duff him up good and proper…
Confucius DVD and Blu-ray release date: October 4 2010.
ANSWER THIS SIMPLE QUESTION TO ENTER
Do you think the real Confucius had a nice wispy moustache?
1. Yes
2. Yes
HOW TO ENTER THE DVD COMPETITION
Simply email your answer to [email protected]
Please include your NAME and ADDRESS – otherwise we can't send you your prize.
Please put CONFUCIUS in the subject title.
Good luck!
Featured on The Prize Finder – UK Competitions, Loquax Competitions, Competitions Today and Crazy Compers
Competition ends 8 November 2010.
About The Author