WIN: 1 x 3 copies of Black Death on Blu-Ray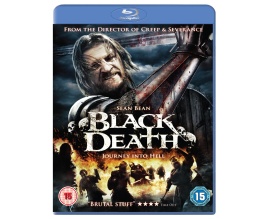 Released to own on DVD and Blu-ray 18 October 2010
Greenroom are pleased to announce the release of the action-packed Black Death on Blu-ray and DVD October 18th, from Sony Pictures Home Entertainment.
From director Christopher Smith (Triangle, Severance) and with an all star cast that includes Sean Bean (Lord of the Rings), Carice Van Houten (Valkyrie), Eddie Redmayne (Elizabeth – Golden Age), David Warner (Planet of the Apes) and Tim McInnerny (Severance), Black Death is a terrifying odyssey into action-packed medieval evil.
The shadow of bubonic plague (also known as the Black Death) has fallen over medieval England. People struggle to survive in an apocalyptic world filled with fear and suspicion. Young monk Osmund (Eddie Redmayne) is tasked with learning the truth about reports of dead people being brought back to life in a small village. Osmund leads fearsome knight Ulric (Sean Bean) and his band of grizzled mercenaries to a remote marsh to hunt down possible evil. What horror awaits them at their journey's end?
Confucius DVD and Blu-ray release date: 18 October 2010.
ANSWER THIS SIMPLE QUESTION TO ENTER
Is Sean Bean's character likely to die in Black Death? There is no wrong answer…
1. Yep. Sean Bean's characters tend to die in pretty much everything. *Cough* Boromir.
2. No! He's way too handsome/talented/Northern to die.
HOW TO ENTER THE DVD COMPETITION
Simply email your answer to [email protected]
Please include your NAME and ADDRESS – otherwise we can't send you your prize.
Please put BLACK DEATH in the subject title.
Good luck!
Featured on The Prize Finder – UK Competitions, Loquax Competitions, Competitions Today and Crazy Compers
Competition ends 8 November 2010.
About The Author