Made In Dagenham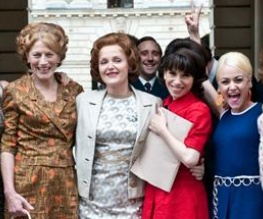 Men, eh? If they're not shitting in a drawer they're burning down the kitchen, and if they're not burning down the kitchen they're sat on their arses complaining about how bad that drawer smells. Made In Dagenham cheerfully rolls its eyes at the foibles of the less gentle sex and instead celebrates the fight for female equality with a cheeky grin and a foxy pair of hot pants. A history lesson it isn't. But hey, if we wanted historical accuracy, we'd read those "books" everyone keeps talking about, right?
[FLOWPLAYER=http://uk.image-1.filmtrailer.com/37776.jpg|http://uk.clip-1.filmtrailer.com/4907_14125_a_2.flv,275,180]
So, its 1968 and Ford cars are big business for the UK. At the Dagenham factory, the female machinists are protesting against the fact that their work has been re-assigned "unskilled", and look to their union to help them get the pay they deserve. The problem? The union is run by men. Men, men, bloody men, men whose hairy lips dribble antiquated fustings onto their dusty, testicle-embracing trousers. And it quickly becomes clear to the bright eyed ladies that their pay isn't anything to do with their skill level; this is a man's world, they're just sewing in it.
Led by the newly passionate Rita O'Grady (an absolutely lovely Sally Hawkins), the Dagenham ladies launch a risky campaign; equal pay for both men and women, and for the first time in history, the women refuse to work until their demands are met. "Women on strike?!" burbles every man in the film. "Women on Strike!" shouts back every woman in the film (and also Bob Hoskins), and thus the battle-lines are drawn.
As with director Nigel Cole's other whimsy-comedy-drama Calendar Girls, you're never in any doubt as to whose side we should be on, and the complicated history and personalities involved aren't so much deviated from as they are painted over with happy primary colours. Miranda Richardson is suitably formidable as Secretary of State Barbara Castle, and the exquisite Rosamund Pike – doomed to be underused in every film she appears in – puts in her power-to-the-girls two cents as a frustrated and intelligent housewife, then shimmies off our screens far too soon.
Though Billy Ivory's script is at times a little heavy handed with the ol' penis vs vagina stuff, there's no denying that he and Cole's styles mesh extremely well together, creating a funny, heartfelt and extremely British-feeling piece of cinema that, though never quite achieving the bitter-sweet emotional sting of films like The Full Monty and Billy Elliott. , still leaves you with a tear in your eye.
You can't help but be charmed by Rita and her crew of impassioned revolutionaries, and when Miranda Richardson sends two clunk-headed subbordiantes scattering with the cry "Their cause already has CREDENCE!" , its impossible not to reflect on the strength of the real heroines forty years ago. Uplifting, jovial and a little bit silly, Made In Dagenham will undoubtedly put a grin on your face. Just don't bring any blokes, bless their hearts, the poor backwards creatures won't understand a word.
Made In Dagenham will be released on DVD on the 28th March
About The Author