Best for Film's Favourite Flicks #11 – Barbarella

Alone on a sofa watching tv in damp dreary Glasgow at the tender age of 17, I discovered Barbarella, Queen of the Galaxy, in this bizarre 60s science fiction film and my world was never to be the same again. The plot is extremely convoluted, but I will attempt to explain it. In the year 40,000, Barbarella (Jane Fonda) is traveling around the galaxy in her spaceship when she gets a call from the President of Earth to retrieve Doctor Durand Durand from planet Tau Ceti. The Doctor has created a deadly weapon called the Positronic Ray, and if it gets into the wrong hands, it may be able to destroy Earth. However, the mission is not as easy as the President makes out, and Barbarella is sent on a dangerous quest through a labyrinth filled with blind angels, tyrants and evil magic. Enjoy this vintage trailer, where they call her top secret mission a "wing-dinger".
Barbarella was based on a French science-fiction comic book by Jean-Claude Forest first created in 1962. The comic became known for being the first 'adult' comic book, and Barbarella; a character of sexual liberation, signified the sexual revolution. Where to begin? Barbarella's genius lies in its utter weirdness. It has a perfect mixture of comedy and fantasy. In the same vein as the original Star Trek series, Barbarella should not be judged for the believability of its special effects or quality acting performances, this is about pure psychedelic escapism. Especially psychedelic moments are the references to The Matmos, a 'liquid evid' named after a popular lava lamp manufacturer, or when the characters smoke from a giant bong/fish bowl containing men; literally 'essence of man'. The music is also a highlight, with the closing music An Angel is Love by the Bob Crewe Generation being particularly catchy.
Jane Fonda is a dream as the heroine, mostly down to her extensive wardrobe, which is enviable, if completely unwearable. Her costumes consist of pieces of skunk fur or plastic cones on a bra, a leotard and thigh-high boots. She also opens the film with a striptease out of a spacesuit- you can see why this role turned her into a sex symbol. The film is dotted with her sexual relations with men: Pygar, the blind angel, Dildano, the leader of the opposition, and Mark Hand, the Catchman.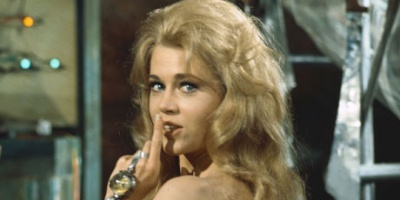 Made at the pinnacle of her career, Fonda had just finished making Barefoot in the Park and was to go on to make Klute and They Shoot Horses, Don't They?, for which she would receive an Oscar nomination. At the time of filming Barbarella, Fonda was married to the film's french director Roger Vadim, a man whose previous partners had included Brigitte Bardot (they were married) and Catherine Deneuve (they had a child together, despite her being only 17 at the time). Vadim had made the critically successful And God Created Woman with Bardot in 1956, but Barbarella was a critic and box office failure.
It is only now that Barbarella has gained a cult following, which gives us more reason to study it. Rumours of a remake have been floating around for years, with news sites reporting that Rose McGowan would be cast in Jane Fonda's role. However they have finally be quashed (thankfully), and we're hoping they don't resurface any time soon.
Do you love Barbarella? Let us know what you think if you watch it!
About The Author