Best For Film's Favourite Flicks #4 – Galaxy Quest

Picking a favourite film is, quite possibly, one of the most difficult things any moviegoer can do. It depends on your mood, on the audience, on the day of the week, on the alignment of the stars, on the… oh sod it, my favourite film is Galaxy Quest. Should I really feel the need to sit here and pretend it took me an hour of careful analysis and research to come to that decision? Possibly. But, then again, if you'd seen the fab comedy sci-fi flick for yourself, you would understand exactly where I'm coming from.
The story? How's about a resounding "SPACE: The final frontier…" to get you in the mood for this Star Trek parody?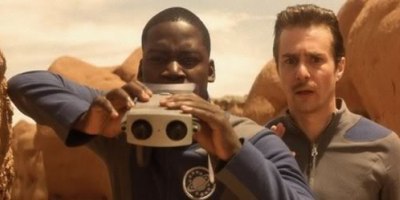 Galaxy Quest follows a bunch of has-been actors from a cancelled 70s television series (ringing any bells?), who have nothing better to do with themselves than open supermarkets, sign autographs and pose with their legions of crazed fans. They hate their lives. Alan Rickman, who is based on Leonard Nimoy, especially hates his life. But none of them hate their lives quite as much as they hate Tim Allen, who is essentially the William Shatner to our doomed interplanetary television series. So how are they going to cope when, after a strange misunderstanding, the "crew" are enlisted by a bunch of credulous interplanetary simpletons, who would love nothing more than to see the original Galaxy Quest crew lead them into battle against a terrifying reptilian villain, who has all but exterminated their people? By bickering, panicking and setting their comedy phasers to stun, that's how!
The film is the perfect spoof, simultaneously celebrating and mocking the stereotypes of the Star Trek universe and leaving not one space particle untouched in the process. And, due to the fact we're essentially watching a film within a film, every single actor takes on two characters; we've got Tim Allen as egotistical actor Jason Nesmith, who in turn plays the heroic Commander Peter Quincy Taggert. There's Sigourney Weaver as the fiercely intelligent Gwen DeMarco, forced to become a space bimbo and repeat everything the computer says as communications officer Lieutenant Tawny Madison. Alan Rickman is your typical method actor in the guise of Sir Alexander Dane, who hates nothing more than playing philosophical alien science officer Dr. Lazarus. Tony Shalhoub is Fred Kwan, a slightly spaced-out actor who in turn becomes the genius chief engineer Tech Sergeant Chen. Daryl Mitchell is Tommy Webber, the former child actor who starred in the 70s show as Lieutenant Laredo.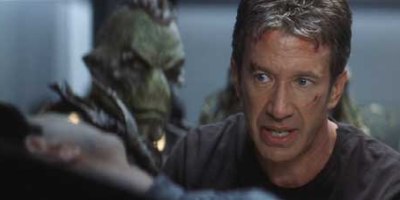 And then there's my absolute favourite; Sam Rockwell's hapless extra Guy Fleegman, who only starred in a single episode of the Galaxy Quest series as Crewman Number Six. Just like any good redshirt, this guy is absolutely terrified of being the extra cast member once the Galaxy Quest team find themselves in a world where the aliens and special effects are for real. His constant breakdowns into extreme paranoia – such as when he believes he's not important enough for a last name – are some of THE most hilarious in the entire film:
HE DIED IN EPISODE 81 PEOPLE!
Cut Guy some slack – I'd probably be a quivering ball of messy emotion by this point too and, unsurprisingly, that's why I love him. Guy plaintively asking "Is there air?! We don't know!" when the Galaxy Quest team open a shuttle door echoes my sentiment every single time the real Star Trek characters decide to head off on a jolly jaunt to an alien planet – nobody checks out the logistics. Nobody. EVER! In a world where stupidity is the norm, it's good to have a spokesperson for the audience out there on the set with them; in Guy's words "didn't you guys ever watch the show?!"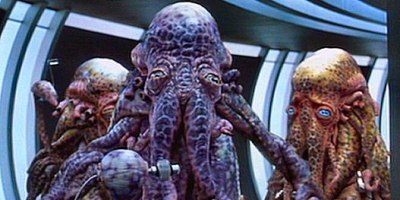 Sam Rockwell aside, Galaxy Quest is packed full of amazing moments. I recently saw it at one of the Prince Charles Cinema's famous breakfast screenings and the entire audience was cracking up, despite their hungover states and despite the fact it was early on a Sunday morning. That's how good this film is. And, whether you love Star Trek or just love to laugh at those who do, there's enough in here to tickle anybody's funnybone. Whether you want to chuckle at the way the aliens walk, some cracking one liners from Alan Rickman or the non-stop observational humour, they've got it covered.
In short, it's outta this world.
About The Author