Previews: What's Out This Week (26th Feb)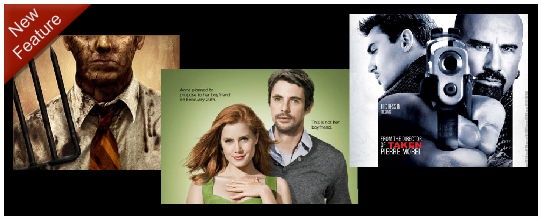 It's always nice to stay ahead of the curve, if only so you can feel unneccessarily smug in front of friends and loved ones. With this in mind Best For Film brings you what you need to know about next week's film releases. Have a read, plan your week accordingly, and practice that lovely self-satisfied smile we all love you for…
Click on the pics for trailer funsies!
The Crazies

The Crazies is an upcoming horror flick by Breck Eisner, and centres on a small town whose water supply is poisoned. Without knowing, every resident slowly becomes exposed to a mysterious toxin and death and insanity ensure. A man and wife try to survive the sudden outbreak of madness, but who can help you when even the police are going crazy? It stars Timothy Olyphant (of Scream 2 and Die Hard) and we're probably going to go see it purely because Olyphant is the coolest last name we've ever heard.
Anticipation Rating: 2.5/5
Everybody's Fine

In this 'indie-film-with-a-blockbuster-cast' flick, Robert De Niro stars as a man wanting to reconnect with his family. After his wife dies, he realises that he no longer really knows his now grown-up kids – played by Drew Barrymore, Kate Beckinsale, and Sam Rockwell. He decides to take them all on a bonding road trip, but of course, family matters are never that easy… Hopefully this is a loveable, well scripted Little Miss Sunshine esque hit, that shies away from relying on its big name cast.
Anticipation Rating: 4/5
Extraordinary Measures

Brendan Fraser and Harrison Ford team up in this 'based on a true story' tale of a man who tries to help fund medical research to save his two kids from a rare disease. The initial response from the critics has been pretty negative, and it could be that a sad story has been forced into a trite and soft-lens-filled film mould. But Harrison Ford is in it! Surely Harrison wouldn't let us down?!
Anticipation Rating: 1/5
From Paris With Love

The sexy, symmetrical, and nice-smelling James (Jonathan Rhys Meyers) has an enviable life in Paris and a beautiful French girlfriend, but he dreams of been a shoot 'em up, boot em down secret CGI agent. Enter John F***ing Travolta, a loose cannon special agent, and Meyes' new partner. Together they have to stop a terrorist attack, buddie-action style, and we bet that personalities will clash in hilarious ways. Sounds pretty generic to us, but as it's Travolta, we'll give it a whirl.
Anticipation Rating: 2/5
Leap Year

Amy Adams and Matthew Goode star in a horrible rom-com about a girl who plans to propose to her boyfriend (who's a bit rubbish) but then meets Matthew (who's dead nice) and begins to question everything (and will probably end up with the dead nice one in the end). And it's set in Wales and Ireland, you know, the places where apparently electricity doesn't exist yet. Judging by the trailer, it's soupy, annoying, and bloody offensive to anyone from anywhere near Britain. Which is quite a lot of people. Please don't make us go.
Anticipation rating: -78/5
About The Author