Previews: What's Out This Week (15th Feb)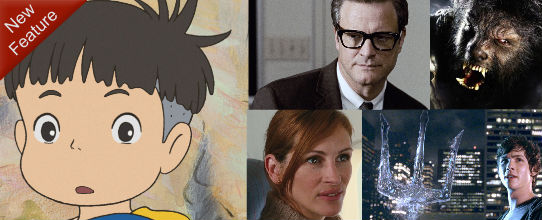 It's always nice to stay ahead of the curve, if only so you can feel unneccessarily smug in front of friends and loved ones. With this in mind Best For Film brings you what you need to know about next week's film releases. Have a read, plan your week accordingly, and practice that lovely self-satisfied smile we all love you for…
A Single Man
[FLOWPLAYER=http://uk.clip-1.filmtrailer.com/3667_9344_a_3.flv,275,180]
A Single Man is based on a novel by Christopher Isherwood, and stars Colin Firth as a college professor in 1962 Los Angeles, struggling to come to terms with the death of his long-term partner (played by Matthew Goode). Since this is the film that earned Colin his very first Oscar nomination, we have to admit we're pretty excited about it. Judging by initial reviews it seems to be a poignant, well played and beautifully crafted drama, perfect for if you're looking for a higher caliber of cinema trip.
Anticipation rating- 4/5
Percy Jackson And The Lightning Thief
[FLOWPLAYER=http://uk.clip-1.filmtrailer.com/2597_10077_a_3.flv,275,180]
In this version, Harry must defeat the… sorry, Percy, we're getting a bit confused. Percy Jackson is the son of Posiedon, and along with his friends Ron and Hermione (oh whatever) they must go to learn how to harness their Gods-given talents to retrieve Zeus's lightning before terrible things happen. Star-studded, high action and probably a lot of fun for the kids, we're still going to have to wait and see whether this outing is little more than a game of spot the difference.
Anticipaton rating- 2/5
Valentine's Day
[FLOWPLAYER=http://uk.clip-1.filmtrailer.com/3129_10072_a_3.flv,275,180]
A day in the life of love (actually). Released two days before the big day itself, this gives this smooch-fest plenty of time to rake in the cash from couples with very little else to do. Maybe we're being too cynical, the cast is stellar (including Jessica Alba, Jamie Foxx, Ashton Kutcher and Kathy Bates) and in all likelyood this will be a very sweet romp exploring the entangled lives of unneccessarily attractive people. Kisses all around.
Anticipation rating- 2/5
Battle For Terra
(click pic for link to trailer)
The planet Terra is inhabited by the peace-loving, tadpole-like Terrians. When the last remnants of the human race rock up (having foolishly destroyed their own planet through neglect and selfishness- alright, we get it!) rebellious Terrian teenager Maya befriends an injured pilot, Jim and is horrified to discover that these destructive humans are here to stay. It looks like a beautifully animated (if slightly preachy) tale for kids and big kids alike, but… well…Avatar anyone?
Anticipation rating 2/5
The Wolfman
[FLOWPLAYER=http://uk.clip-1.filmtrailer.com/2770_6621_a_3.flv,275,180]
The Wolfman is a remake of the 1941 Lon Chaney Jr. classic horror/thriller. It stars Benicio Del Toro (hell yeah!) as Lawrence Talbot, an English nobleman by birth who leaves home after witnessing his mother's violent death as a young boy. Years later, when his brother goes missing Lawrence receives a letter from his panicked wife (Emily Blunt), begging Lawrence to help find him. When the body turns up, it's rather more mutilated than you'd hope, and the hunt is on for the beast that killed him… reviews have been mixed so far, but with the promise of were-wolf based gore and Anthony Hopkins as a shady father-figure, this might just have thrills enough to satisfy.
Anticipation rating 3/5
Ponyo
(click pic for link to trailer)
From the genius behind Spirited Away and Howl's Moving Castle comes another Japanese animated delight. Ponyo centres on a lonely young boy named Sosuke who lives in a windswept house on the cliff-tops with his mother Lisa (voiced by Tina Fey), while his fisherman father (only bloody Matt Damon) spends most of the day at sea. One day, Sosuke finds a strange little fish named Ponyo, who begins to turn into a girl. If creator Hayao Miyazaki's past work is anything to go by, this should be an absolute treat full of joyous animation, wonder and imagination. We can't wait.
Anticipation rating- 5/5
So there you have it. Have we missed anything you've been foaming at the mouth about? Got any recommendations? Let us know!
About The Author