The Horror Show VoD service is launched!

The Horror Show is a brand new video-on-demand service (what the more hip and discerning streaming content customer refers to as a VoD to save themselves a precious few syllables), one that is a little different from the usual affair. For one, it's tailored for a particular viewer, one who finds Jason Voorhees to be a thoughtful protagonist, one you can really identify with. For another, it has a charter, and goals, and a purpose. The Horror Show supports the horror film industry, you see, not merely cashing in on the big budget names of your Human Centipedes or your Paranormal Activities, but also bringing many independent or foreign language horror films to UK screens for the first time.
We find this state of affairs remarkably agreeable. As paying customers, we get the best of both worlds, the Hollywood slashers and the type of unnerving horror films that we would never normally get the opportunity to expose ourselves to.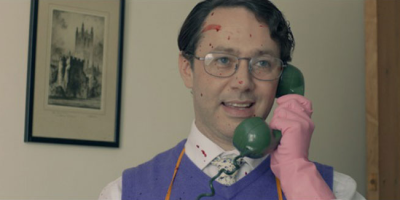 The launch event for The Horror Show began with such a film – Him Indoors, a short film about a agoraphobic serial killer. Reece Shearsmith, of The League of Gentlemen and Psychoville fame, plays an introverted and especially peculiar serial killer, one who must overcome the difficulties of not being able to hunt in the wild for his victims by making them come to him. In a charmingly bizarre dark comedy, Reece Shearsmith balances the mundane with the downright disturbing, and it works extrememly well. No one would guess that Him Indoors is the first short film shot by writer/director Paul Davis that wasn't a documentary, but it is so. Entirely crowd funded, Him Indoors has found its way into being commercially viable by its exposure on The Horror Show. It's a great little watch, one that hits the difficult note of being both horrifying and hilarious, and comes highly recommended by us.
Him Indoors was followed by an interview on stage with Reece Shearsmith and Paul Davis, and it illuminated the difficulties of being an independent film maker in the age of the internet. They were both witty, clever, and genuinely loved their weird little film, and so did we.
Legendary film critic, fiction writer and journalist Kim Newman came on stage to introduce his choice for the evening's viewing, White Of The Eye by famed Scottish director Donald Cammell. Famous for Performance and the infinitely disturbing yet unavoidably-dated Demon Seed (it's the one where Julie Christie gets raped and impregnated by a sentient 1970's computer), Donald Cammell's legacy is not enormous, but he still has many devoted fans. White Of The Eye is a Donald Cammell film that not many people, even his fans, have seen. Indeed, Kim Newman admitted before the film started in an apologetic and humble tone that he had only seen it once, 20 years ago, and could not say with any assurance that it would be at all watchable.
We are sorry to say that it wasn't.
White Of The Eye is about a serial killer who targets women at home alone, beating them without mercy and ending their lives in increasingly odd ways. Local hi-fi and sound engineer Paul (David Keith) becomes a suspect, after the police find that tire tracks found near one of the victim's house match those of Paul's truck.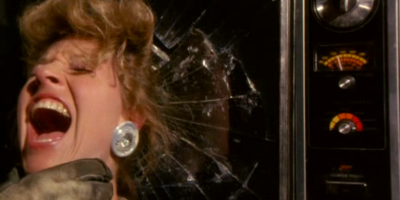 What follows that brief synopsis is hard to describe, but we'll try. There's infidelity and domestic disputes all against the backdrop of quite frankly puzzling serial killings. The murders are committed POV style like the opening of Halloween, with a clumsy and cheesy style that borders on the satirical. Much of White Of The Eye is mildly comical, but mostly it's simply a desert of interest. The time between murders leave you baffled, forcing you to postulate whether you simply imagined the last bloodless boring killing and you've landed in an episode of Dallas. There's some interesting visual imagery, to be sure – a goldfish thrown meat, repeated close-ups on eyeballs, they're mildly diverting, but quite honestly the entire film is something of a mess. It doesn't feel like anything from the same time period of the late 1980s, it has more in common with B-movies from the 70s, but without the blood, the suspense or the charm.
Have a look at the second murder scene in White Of The Eye and try to decide whether it's trying to be funny or not. We still have no idea:
Aside from the singular choice by Kim Newman, we very much enjoyed ourselves at The Horror Show's launch event, and were quite taken with the service. Go give them a look, do everything in your power to check out Him Indoors, and if anyone invites you to watch Donald Cammell's White Of The Eye for the love of God say NO THANKS MATE.
About The Author