Robert Downey Jr will be in The Avengers 2 & 3!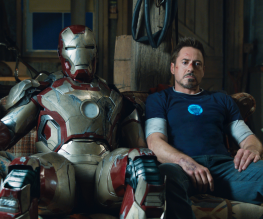 Robert Downey Jr has signed on for a further two films of The Avengers, to much relieved cheering from just about everyone. He was a little tired of playing Tony Stark after Iron Man 3, but as everyone says, it was the role Robert Downey Jr was born to play. Marvel, who are notoriously stingy with the old salaries, have evidently gotten a little worried at Man Of Steel's box office returns, and immediately secured their strongest asset.
Robert Downey Jr's confirmed return is welcome news, especially after the recent reveal from Joss Whedon that Loki, the nemesis from Thor and The Avengers (played by Tom Hiddleston), won't be making an appearance in The Avengers 2. At least we'll see Tom Hiddleston reprise his excellent role in Thor: The Dark World on 30th October 2013.
Although Robert Downey Jr has been locked in for The Avengers 2 and 3, what was not announced was any future Iron Man films. Iron Man 3 is now the 5th highest grossing film of all time, at $1.2 billion worldwide gross, and for good reason – we liked it an awful lot. It's probably a good thing that no further Iron Man films are currently in the works – no one likes burn out, and Robert Downey Jr should feel like he wants to be on set, not merely contractually obligated to churning out Iron Man films.
Of course we certainly wouldn't poo-poo another Robert Downey Jr-led Iron Man film if it came about.
This will all be good news for The Avengers 2 writer and director Joss Whedon, currently doing the rounds for his low-budget Much Ado About Nothing. He's writing the sequel to the third highest grossing film of all time at the moment (The Avengers is currently on $1.5 billion), and will be gratified to know that his most charismatic character will be around to kick Thanos in the space-nuts.
Stay tuned for every last piece of news on The Avengers 2 and Robert Downey Jr, right here at Best For Film.
Hurrah! Robert Downey Jr will be Tony Stark again! Do you think we'll ever see Iron Man 4? What would it be about?
About The Author