Helena Bonham Carter is Disney's fairy godmother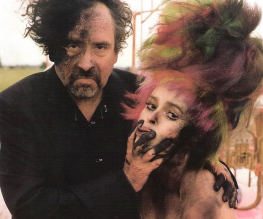 Helena Bonham Carter (you remember her, she's the one who always looks a little sticky) is set to play the fairy godmother in Disney's live-action iteration of Cinderella, joining Cate Blanchett who has already been placed into the role of master of an indentured servant as the evil step-mother (according to Disney if you're raising a child that's not your own, you're a complete dick). Directed by Kenneth Branagh, Cinderella is shaping up nicely.
Although these roles aren't particularly evidence of "branching-out" for Helena Bonham Carter or Cate Blanchett, we're sure they'll perform admirably. Also, there are bills to be paid, yeah!?
Joining the two lovely ladies will be a slew of TV actors to fill in the gaps like so much corner-shop glue; Lily James as the titular Cinderella (famous for Downton Abbey and for being named after both of Harry Potter's dead parents), Richard Madden as Price Charming (Rob Stark from Game Of Thones. Well, formerly of Game Of Thrones anyway LOL), Sophie McShera (also from Downton Abbey) and Holliday Grainger (Lucrezia from The Borgias herself). Looks like Helena Bonham Carter will be strutting around on set as the most seasoned of cast members.
As befitting someone of the acting calibre of Helena Bonham Carter, this version of Cinderella will have a good deal more of the fairy godmother, who will reportedly parade around as a bum for a bit, spying on Cinderella and asking her for booze money because she fought in the Falklands, don't you know, until she inevitably vomits glass slippers and a pumpkin carriage all over Cinderella's feet. Sounds perfect for Helena Bonham Carter, who has been practicing being a vagrant for the better part of the last 12 years (it's called being married to Tim Burton).
We're kidding, of course. We're all ardent fans of Helena Bonham Carter here at Best For Film, except for editor John Underwood, who once tried to pickpocket her after a screening of The King's Speech. Anyway, bitter snipes at a successful and much-loved actress aside, we're rather looking forward to Cinderella. Hopefully Disney will deliver.
Cinderella will be out sometime in 2014.
How do you think Helena Bonham Carter will perform as the fairy godmother? Let us know in the comments below!
About The Author