Top 10 The Rock roles

Pain & Gain is almost ready to burst its way into cinemas and punch us all in the collective throat. So now is as good a time as any to comb through star Dwayne Johnson's film history and pick out ten of his best roles. Well, we say "best" – he played the tooth fairy at one point. We're guessing that must have been a low point in his career. Have a look at our definitive list and see which Johnson was the most satisfying (pun not intended).
#10 – Driver (Faster)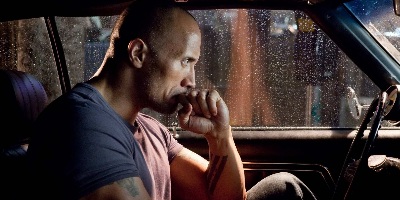 Faster was one of Dwayne's lesser known films for a reason – it wasn't very good. Johnson plays "Driver" (really), an ex-con who goes on a bloody rampage of revenge against those who double-crossed his brother during a heist and killing him in the process. Besides a kind of touching scene with one of the former robbers who is now a priest, everything else was underwhelming. Faster basically set out to prove that Dwayne Johnson can kick and punch and fire a gun good.
#9 – Derek Thompson (Tooth Fairy)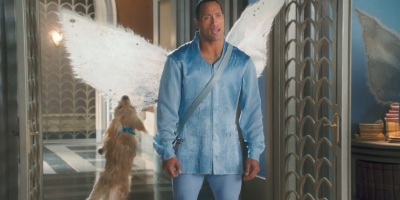 One thing that can be said about Dwayne Johnson, is that he doesn't think himself above donning tights and a pair of fairy wings for a film. Sadly that's exactly what the WWE star did for The Tooth Fairy. Dwayne starred as Derek, a hockey player who is sentenced to take over the tooth fairy's duties after he discourages a youngster's hopes. But, in typical Hollywood schmaltzy fashion, as he hangs out with the fairies he begins to rediscover his own forgotten childlike dreams. This sounds like the set-up for a pretty decent, out-of-the-box psychological drama that Jack Nicholson might have played the lead in circa One Flew Over The Cuckoo's Nest – but it's not.
#8 – Mathayus (The Scorpion King)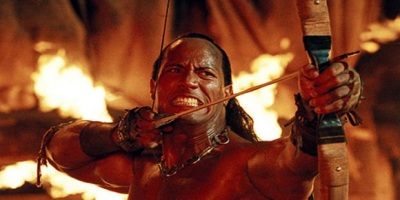 The Rock plays a desert warrior who rises up against the evil army that is laying waste to his sandy homeland. Essentially a semi-prequel to The Mummy Returns (Dwayne plays the same character, but this time he isn't mashed into dreadful CGI scorpion trousers) this wasn't much of a stretch for The Rock – unless he classes running, jumping and sword-wielding a serious facet of acting. WHICH WE DOUBT.
#7 – Agent 23 (Get Smart)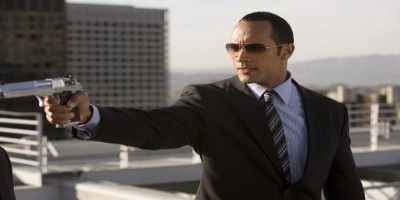 Who could forget Get Smart? Well a lot of people, actually. It was a largely unimpressive spoof spy film starring Steve Carrell and Anne Hathaway as two spies who wind up working together to take down the mysterious CONTROL. Dwayne popped up as the arrogant Agent 23, and clearly relished the part of a sharp-suited-but -dim lady-killer. He was impressive and outshone the film itself, although that's not hard to do.
#6 – Jack Bruno (Race To Witch Mountain)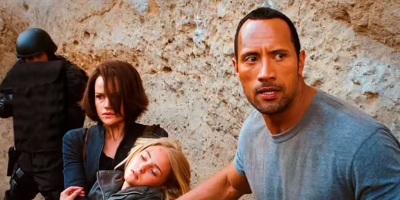 In a role that launched a thousand memes, Dwayne played a cab driver who enlists the help of a UFO expert to protect two sibling with paranormal powers from an organisation that wants to do them harm. Only Dwayne could star in a film that involves a cab driver getting mixed up with aliens. However, his in-cab reaction to what a little girl says to him seems to have owned the internet for some time. You haven't really made it until you're a meme, right?
#5 – Roadblock (G.I. Joe Retaliation)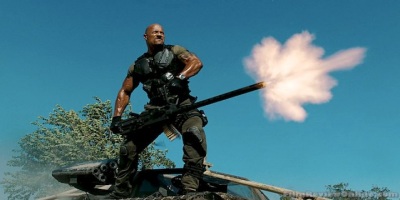 Dwayne got back to his franchise-reviving best with his role in G.I. Joe: Retaliation, taking over butt-kicking duties from Channing Tatum. While the film was risible, it was pretty cool to see The Rock causing absolute carnage behind the wheel of a tank. He also quotes Jay-Z at the start because he's poetic and deep like that.
#4 – Luke Hobbs (Fast Five)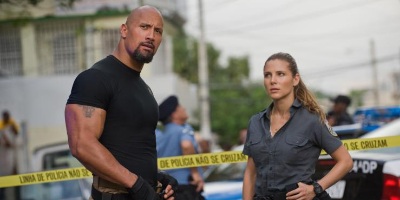 It was here, in the fifth part of the Fast & Furious series, that Dwayne cemented his status as the reviver of franchises. His hot-headed, ambitious, meathead cop Hobbs breathed new life into a slew of films that were solely based on cars going really really quickly. He had great onscreen chemistry with Vin Diesel and Paul Walker, and it's never a bad thing watching Rocky chase a bad man over some rooftops. As a result, Fast Five was a surprisingly decent movie. Who knew?
#3 – Danson (The Other Guys)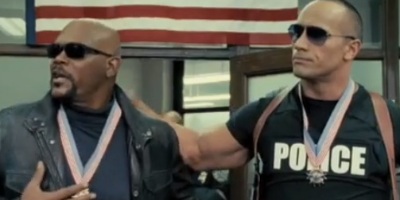 In Will Ferrell/Marky Mark cop comedy The Other Guys, Dwayne and Samuel L Jackson, played a cocky cop duo whose habit of kick-butt and taking names saw them to the top of the career ladder. It also saw them to the top of a building from which they both fell and lost their lives. Playing arrogant wasn't exactly a stretch for Dwayne, but he proved that he could definitely do funny. The best line? "All the gun fights, all the car chases, all the sex we don't wanna have with women but we have to, that's all due to what you guys do". Watch it below:

#2 – Elliot Wilhelm (Be Cool)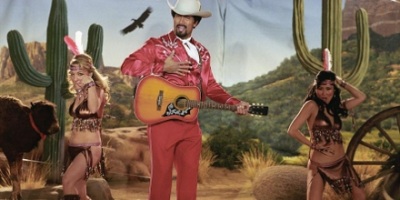 Probably The Rock's most diverse role to date, Be Cool saw Mr Johnson play a gay Samoan bodyguard to Vince Vaughn's excruciating character Raji (Raji thinks he's black so that's hilarious, you see). Keen to remind us that not only can he act, flex his muscles and drop a mean People's Elbow on candy-asses; but he can carry a tune as the below video shows.

It's not his fault –
Be Cool
was a naff film that should never have happened in the first place.
#1 – Joe Kingman (The Game Plan)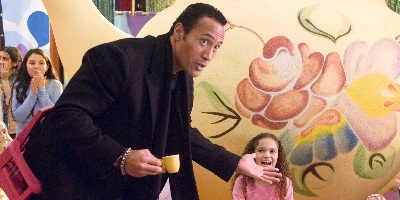 Once again, The Rock decided to play to type and star as an NFL player in The Game Plan. His character Joe has a pretty ideal life until his eight-year-old daughter from a previous relationship ends up moving in with him. We're guessing that all the technicalities and red tape that comes with a child suddenly moving in with a celebrity were overlooked. Joe drives dangerously with her in the backseat, leaves her in a seedy bar at 3am and generally sucks at "parenting". How she isn't taken off him, we'll never know, but by the end he turns out to be a pretty neat Dad in a sweet ending that we're not ashamed to admit we like.
Is your favourite The Rock role on this list? Bet it is. If not, let us know in the comments!
About The Author