Hopkins' Collection Opens In London Today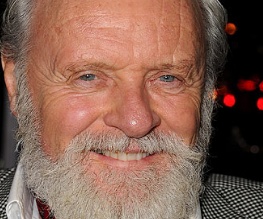 It's becoming a week of career changes for high-profile stars. First Madonna announces that she's trying her hand (bless her) at writing and directing, and today Anthony Hopkins' first collection of paintings opens in London. Maybe being ridiculously famous singers and actors is just more boring than we thought.
The collection, made up of surrealist and very brightly coloured paintings of… well… dogs and stuff, has been exhibited around the US for a while now (yeah thanks for staying true to your Scottish roots Anthony), and as of today will be on display at Gallery 27 in Mayfair, central London. For you kilt-o-maniacs, fear not, the collection moves to The Dome in Edinburgh at the beginning of March.
Hopkins began painting in 2002, and has produced 50 works, all of which have been included in his collection. Apparently he paints every day in his Malibu studio – struggling artist eh? – and "takes his art very seriously". For any die hard Hopkins fans, five limited-edition prints will be available for purchase. Come on guys, help out a fledgling artist, he's probably having to scrape together the money for brushes as it is.
Seen the collection yet? What did you think? Let us know below!
About The Author