A Brand New Russell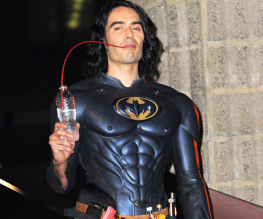 Russell Brand never fails to surprise us with his kooky ways and today's release of hilarious snaps, featuring him flouncing around in a Batman suit, are no exception. Brand donned the costume for a scene in the remake of the 1981 film Arthur, which is currently being shot in New York.
The comedian-turned-actor has taken on the lead role of Arthur, a drunken playboy originally played by Dudley Moore. The character stands to inherit a fortune if he marries an heiress (Jennifer Garner) and is put under pressure by his family to tie the knot. But, of course, Arthur is tempted in another direction and all does not go to plan. Let's hope things run more smoothly for Brand in his own love life, with his current engagement to the equally zany singer, Katy Perry.
It seems that Russell-fever has spread throughout the cast in NY and a somewhat unlikely friendship has been struck up between the star and Dame Helen Mirren! The two have been getting on famously both on and off set, developing a relationship founded earlier this year while filming The Tempest. Mirren apparently took a pair of Brand's underpants as a memento of them working together! Each to their own Helen.
It remains to be seen how Russell's acting skills will match up in his latest creative endeavour, but the resident funny-man has at least demonstrated his commitment to the role by shaving off his trademark messy beard!
About The Author