New 'Thor' image released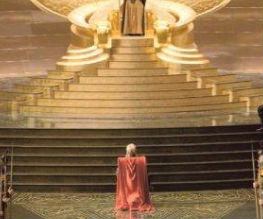 Further to earlier leaked images that caused a mixed reaction from Thor fans, a new image has been released that is sure to have the fans breathing a sigh of relief.  For the full picture, click here.
The new image shows Thor (Chris Hemsworth) kneeling to Father Odin in the Hall of Asgard, while his mother, Frigga (Rene Russo), brother Loki (Tom Hiddleston) and Hogun the Grim (Tadanobu Asano) look on from the sidelines.
This image is a marked improvement on the cheesy looking image of Odin, Thor and Loki, that had been previously released (see below). Those distinctly plastic looking costumes have more than a whiff of Flash Gordon about them – and not in the good way.
This new image gives fans a glimmer of hope that director Kenneth Branagh will bring some of his Shakespearean gravitas to the project. We're still not convinced – while the scale is reassuring, but ultimately it's just a big gold staircase that feels very much like the set from an 80's fantasy film.
Thor will be released in cinemas on 6 May 2011
About The Author