ABC Bans New Trailer for Our Idiot Brother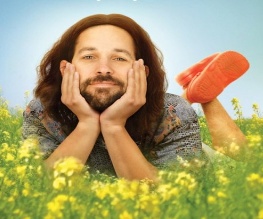 The American network ABC has banned the latest trailer for the upcoming comedy Our Idiot Brother. The movie tells the story of a well-meaning stoner who routinely ruins the lives of his family. The ban feels strange on a number of levels. Firstly, it's a Paul Rudd movie, for God's sake. Paul Rudd, a man who makes his bread and butter in being charmingly inoffensive. Secondly, it's backed by The Weinstein Company, one of the most influential studios in America. Thirdly, the tv-edited trailer is a paltry 31 seconds long.
You'd be forgiven for wondering what the fuss is about. Apparently, ABC's specific beef is "a visual of an exchange of what is assumed to be drugs, a visual of Paul Rudd's character using a juice box to depict urination, and various references to getting high and smoking."
TWC have blankly refused to submit their trailer for editing, and have even released a new red-band trailer by way of extending the finger to ABC. "We'd like to dedicate our new red band trailer for Our Idiot Brother to censorship everywhere. Enjoy!"
The movie, released today in the US also stars Zooey Deschanel, Steve Coogan and Elizabeth Banks.
What do you think of ABC pulling the trailer? Let us know in our comments section.
About The Author