Angelina Jolie is Cleopatra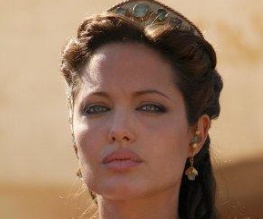 Marital speculation aside, it's good to know that Jolie is still as ambitious as ever about her roles. The pouty princess is set to join the likes of Vivien Leigh and Elizabeth Taylor, playing Cleopatra in a new movie.
Hollywood producer Scott Rudin has snapped up the rights to a new biography of the legendary queen; Cleopatra: A Life and is reportedly setting up the project "for and with Jolie". In terms of looks, you can't get more bang on that the cat-like regality of Jolie, and though it's easy to forget, the girl has some serious acting prowess under her belt, winning an Oscar for Girl, Interrupted.
The official synopsis for the novel goes like this – "Famous long before she was notorious, Cleopatra has gone down in history for all the wrong reasons. Stacy Schiff here boldly separates fact from fiction to rescue the magnetic queen whose death ushered in a new world order a generation before the birth of Christ. Rich in detail, epic in scope, Schiff 's is a luminous, deeply original reconstruction of a dazzling life."
Pow! Sounds pretty exciting. So who will star opposite her as Antony? No word as yet, but we doubt it will be real life leading man Brad…
Cleopatra, comin atcha, you happy with the casting?
About The Author