Austin Powers 4. Ungroovy, baby.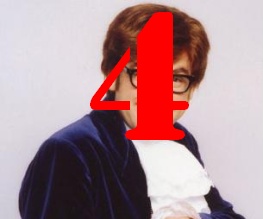 Oh dear. Mike Myers has apparently committed to his first live-action starring role since 2008's The Love Guru (for which he picked up the Worst Actor Razzie) – nine years on from Goldmember, he's returning to the clapped-out Austin Powers stable for the latest in a string of ill-advised reboots. We're not sure the fans will stand for this, Mike – for one thing, none of us are twelve any more and we suspect chest wigs are going to seem less funny this time round.
Myers is set to write and produce the unnamed fourquel (is that allowed?) once more, although there's no news yet as to whether series director Jay Roach will be back – we're hoping he's never allowed to do anything ever again after Dinner for Schmucks, but nobody ever listens to us. Are there even any more James Bond tropes to rip off? Maybe this'll be a very gritty Daniel Craig-style film where Austin has to go up against hard-bitten villains in jeans and so on – think Life on Mars with crushed velvet…
Thoughts? Incoherent cries of anguish? Let it all out, darlings.
About The Author