Bond 23 will shoot in India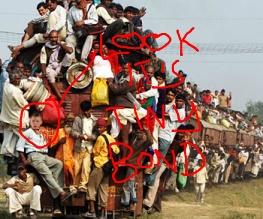 Earlier this week, we reported some of the likely elements of the nominally untitled Bond 23 (read: Carte Blanche); a variety of leaks and exposés suggested Sam Mendes would be sending 007 to India, possibly via some sort of train disaster.
Well, it looks like the Internet's conspiracy mills were right for once! India Take One Productions, a pre-production company which has recently worked on forthcoming Tom Cruise fourquel Mission: Impossible – Ghost Protocol, has told the Beeb that the Indian government has recently granted permission for Bond 23 to shoot in Delhi, Mumbai and Goa.
James Bond hasn't been to India since Octopussy (1983), which also involved a sequence on a train (although that one was a circus train; in fact, didn't Roger Moore have to dress up as a clown at some point?). Expect lots of running through crowded markets and old-school colonialism…
About The Author