Brand New Prometheus Picture!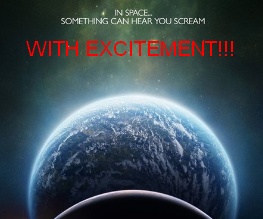 Excited about upcoming must-see flick Prometheus? Excited enough to take off all your clothes and dance around at the premiere, a la superfan of Alvin And The Chipmunks: Chipwrecked?
Whaddaya mean, no?
This isn't good enough, film fans. Not good enough at all. In fact, I intend to change that resounding 'no' to a 'hell yeah!' or, at the very least, a lukewarm 'not yet'.
How? With a brand-new still from the film, that's how…
Amazing. It's Noomi Rapace, oh she of Girl With The Dragon Tattoo fame, sporting a brand new fringe and russet red locks. God, we love a super-hot space makeover! Only sexy people are allowed in space, after all. Sexy smart people, who take on the dual roles of archeologist and scientist without batting a mascara-coated eyelash. And, as Dr. Elizabeth Shaw, Rapace fulfills ALL OF THE ABOVE. You could say she's the Ripley of Prometheus. Every Ridley Scott film needs a Ripley, right?
Enough of the hot female intellectual. It's time to REALLY look at the picture. Are you looking? If, like us, you're an astute film buff, you'll detect a (dare we say it?) ominous atmosphere to Shaw's darkened alien surroundings. Sure, Shaw has a sexy eye-skimmer, but will this protect her from discovering an entirely new species that will kill everything and everyone she holds dear?
Probably not. Those aliens are tricky little buggers.
Excited? You bet! GET-NAKED-EXCITED? We're definitely warming up to the idea. In fact, in the spirit of all things Ridley, we're removing a token shoe. Roll on June 2012…
About The Author