Disney talk new Snow White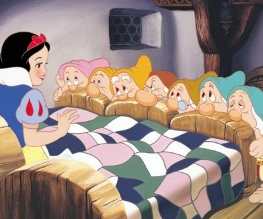 Now, you may already be aware that currently there are no less than three Snow White adaptations out there in the create-a-verse; Universal's Snow White and The Huntsman, Relativity Media's The Brothers Grimm: Snow White, and Disney's Snow White and the Seven. So far, Disney have been very quiet about the direction they're taking the classic anti-fruit fairytale, but we can now reveal some details. And they're mad.
Firstly, good news! It's being written by the glorious Michael Arndt; responsible for the scripts of Little Miss Sunshine and Toy Story 3. This means we can almost guarantee brilliant, well-rounded characters, a gripping plot and a fresh take on an old tale. Next, bizarre news! The story will be set in 19th century China, and will centre on a young Englishwoman who returns to Hong Kong after her father dies, discovering that her stepmother is plotting against her. Managing to escape into mainland China, she takes refuge with a group of seven international warriors. International warriors? What? The marketing possibilities are endless: "Not So Dopey This Time Around". "The Doc will see you now (and he'll kill you)". "Bashful? BashFACE". No worries Disney, just pop the cheque in the post.
Sounds like things will start picking up production-wise as of now, meaning we might be getting three Snow White adaptations in one year (2012). Will this be the one you're waiting for?
About The Author