Ellen Page comes out in moving HRC speech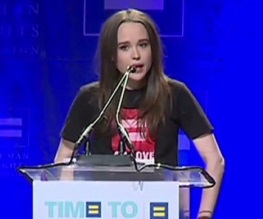 Well, this is gorgeous news. Ellen Page, everyone's favourite teeny tiny Canadian actress, has come out as gay in an elegant and thought-provoking speech to the Human Rights Campaign Foundation's inaugural Time to Thrive conference, which promotes safety and inclusivity for LGBTQ* young people in America and across the world.
Page, who we correctly identified as a lesbian three years ago thanks to her fondness for guitars and the fact that she's called Ellen, casually touched on her sexuality towards the end of her beautifully wrought address on Valentine's Day.
Here's the speech:
We love you, Juno! Although her speech was intelligent and heartwarming, it's ridiculous that anyone in the public eye (particularly, as in this case, someone who doesn't fit outdated sexuality stereotypes – shock horror, lesbians are allowed nice hair) can still attract so much attention by coming out. We hope that Page's brave announcement will help wedge the door of the closet a little more firmly open.
About The Author