Expendables 2 trailer is completely, utterly bloody insane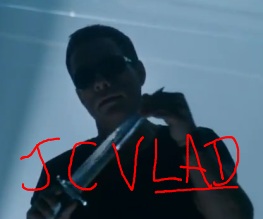 We were pretty crushingly underwhelmed by The Expendables when it came out all the way back in 2010. But with the inevitable sequel's August release closing in fast, it was high time Sly Stallone and his deathless (just about) team of utter fucking maniacs pitched up to deliver another trailerful of guns, knives, plutonium, helicopters, motorcycles, APCs, seaplanes, tanks, Smart cars (what?) and Chuck Norris. And deliver they have.
Watch this. Watch it and goggle and weep:
We're not even going to try to subject that to analysis. Not one bit. We're not going to try and comment on JCVD's pitiful nod to a plot ("LUKE AT ME I AM BELJEN AND HAVE OLL THE PLOOTONIOM"), or Sly's habit of stealing moves from Ezio Auditore, or Liam Hemsworth's incredibly transparent inclusion as a sop to Hunger Games fans and generally people who don't remember Dolph Lundgren. We're especially not going to pass judgement on Arnie actually being persuaded to say "I'm back!". We are, however, going to take a moment to savour this fucking extraordinary event:
Something like that, anyway.
Are you going to see The Expendables 2? You probably are. So are we.
About The Author