Fancy A New Look At Colin Farrell In Total Recall 2012?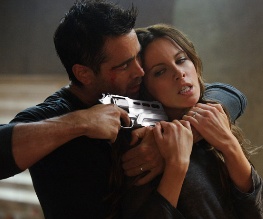 Is it real or is it recall? Well, to be honest, it feels a little bit like recall – mainly because we've already seen the Arnie Schwarzenegger versh of Total Recall.
Plus we've also seen every single other film out there (here's looking at you, The Amazing Spider-Man) release BRAND NEW FOOTAGE ahead of the release date.
And then there's the fact that, yes, when we sit down to watch Total Recall in the cinema, it will FEEL like a Total Recall as we will recall having totally seen it already. Clever marketing ploy? Or desperately stupid PR stunt?
Whatever. Roll the fucking clip:
Kate Beckinsale is evil. Go figure. She's also a nimble little minx, isn't she? No wonder Ellen Degeneres is edging away from her…
How about we compare that to the recent TV Spot for Total Recall?
So there we go. Colin Farrell's got a gun. Jessica Biel's got a gun. Bill Nighy… well, he doesn't have a gun. But he does have a cool machine that pumps out blue light. AND a trench coat. That's got to be better in some way, right?
And can we just say that the phrase "WHAT IS REAL, WHAT IS RECALL" is utterly devoid of question marks.
IT ISN'T EVEN A QUESTION!
We're approaching this like algebra; let's say that "WHAT" represents some unknown value. Which means that "WHAT" is "SOMETHING" and, ergo, "SOMETHING IS REAL, SOMETHING IS RECALL."
Or they're just shit at grammar.
What do YOU think of the new Total Recall clip? Do you love it?
About The Author