Fast Five in pole position at US box office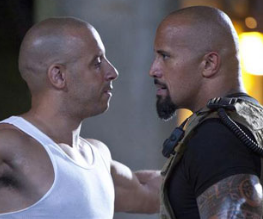 Fast Five, the fifth entry in the Fast and Furious franchise (and not the tale of the children in the Famous Five books on Ritalin) opened at No. 1 at the US box office with an estimated $83.6 million, registering as the series highest opening weekend as well as being Universal Studio's biggest ever launch at the US box office.
Who knew cars (and grown men) going crash, bang, wallop would make so much money?
Fast Five was not the only new entry at the US box office as Disney's coming-of-age drama Prom and the Weinstein Company's sequel Hoodwinked Too! Hood vs. Evil entered the chart at 5 and 6 with a disappointing $5 and $4.1 million respectively.
Holdovers from the previous weekend occupied the positions 2 to 4 with animated film Rio banging its drum in second place with $14.4 million, Tyler Perry's Madea's Big Happy Family in third ($9.9) and Water For Elephants (R-Patz– shriek!), trailing in fourth place ($9.1).
The box office was up by 56% to $137.4 million compared to the same time last year. Just in time for the summer silly season.
About The Author