Gambit trailer released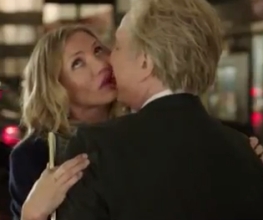 Fans of the Coen Brothers, your long(ish) wait is over – the first Gambit trailer has hit the web, and writers Joel and Ethan Coen have definitely let loose their surreal side with what looks like one of their zaniest capers to date.
Oh God, we hate the word 'zany'. Sorry about that.
The film, a remake of a 60s comedy featuring Michael Caine and Shirley MacLaine, stars Oscar-winner Colin Firth as a frustrated middle manager who enlists a cowgirl (Cameron Diaz) to defraud his boss (Alan Rickman THANK YOU GOD). Stanley Tucci's also in it, which is shorthand for 'it'll be at least a bit brilliant'.
Check out the Gambit trailer below:
Is Alan Rickman too old for us to fancy him a bit? We hope not. The Gambit trailer shows a lot of promise (it's nice to see Colin Firth playing a slightly less uptight character after the kings, spies and miserable gay chaps of the last few years), but we're ever so slightly worried about the superfluity of Hangover-style capers. Unexpected lions and missing trousers? We hope director Michael Hoffman (the Coens are just writing the film, alas) isn't trying too hard to snare the populist market… still, there'll be plenty more Gambit trailers over the next few months to win us round.
What do you think of the Gambit trailer? Let us know below!
About The Author