Gerard Butler in final talks to star in Point Break remake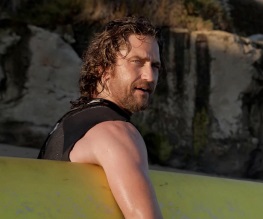 Well, this is baffling. Gerard Butler, who's best known for being an awful romantic hero and a passable action star, is on the verge of signing up for a remake of Kathryn Bigelow's classic cops-and-surfers thriller Point Break. We know what you're thinking – he's been cast as Johnny Utah, the role made famous by the similarly bland Keanu Reeves. After all, Gerard's played a couple of FBI officers lately, he's all set up for it! That's not such a bad idea.
And indeed it wouldn't be, except that the role Butler is circling is actually that of Bodhi, the charismatic surfer-turned-bank robber played by the late Patrick Swayze in the 1991 film. Now, we don't dislike Butler as such – he was great in Coriolanus, and everyone has a soft spot for 300 – but as a magnetic, anti-establishment rebel? This is all wrong. We strongly suspect that the only reason GB got the call was because he's actually done a surfing film (the utterly awful Chasing Mavericks) in the last five years, unlike literally any other actor.
There's no word yet on who'll be taking the roles of Utah and his partner (played by Gary Busey in the original), but if this news is anything to go by we can presumably expect Rebel Wilson and the dog off Britain's Got Talent. Sigh.
First the Dirty Dancing remake, now this? We're sorry, Patrick.
About The Author