Jessica Rabbit in three dimensions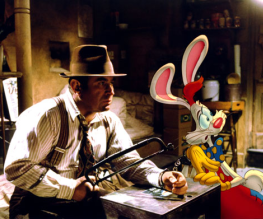 Since its release nearly twenty-five years ago, rumours have buzzed around the ether like the cast of Bee Movie concerning the conceptual honeypot that is a potential sequel to Robert Zemeckis' 1988 classic Who Framed Roger Rabbit.
Zemeckis' iconic mixture of live action and cartoon animation is one perfectly suited to the digital age with innovations in 3D allowing for a much-needed visual separation between Jessica Rabbit's red dress and the human realm. For the last three years, rumours have been growing that Zemeckis was bringing Roger and Jessica Rabbit back to the big screen – rumours confirmed by his latest revelation that a script has been worked on by the original writers and is at a stage of completion he is happy with. Since the heyday of Roger Rabbit, Zemeckis has regularly associated himself with excellent quality script-writing, his resume including the 90s releases of Forrest Gump and Contact, which leaves us in no doubt that this sequel would be sealed with a 24 carrot guarantee of quality.
In an interview with original producer Frank Marshall on Collider.com, he revealed that a prequel was on the cards after the original release, but hand-drawn animation at that time was just too expensive. Taking a casual swipe at the Goliath of animation that is Pixar, Zemeckis assures audiences he will retain his loyalty to the original hand-drawn qualities of Jessica Rabbit and her hubby, but will utilise the considerable aesthetic advantages provided by modern 3D tools. Zemeckis also confirms that he'd be interested in converting the original film into a 3D release.
Tragically Bob Hoskins chose to retire from filming this year after being diagnosed with Parkinson's. Sad face. But at least he didn't have a piano dropped on him.
So… Who would you like to see as Roger's next live-action partner?
About The Author