JJ Abrams courts Benicio del Toro for Star Trek 2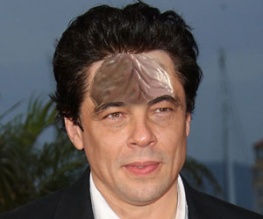 Star Trek director J.J. Abrams has confirmed that he has approached Oscar-winner Benicio del Toro with an offer of a starring role in Star Trek 2.
The major vacancy in the eagerly anticipated sequel is for a brand new villain, as Eric Bana's misguided Romulan miner Nero was destroyed by a black hole at the end of 2009's Star Trek, a surprisingly successful film which became the first in the Star Trek series to win an Oscar.
Abrams has been very coy, revealing only that a discussion – "not even negotiations" is underway. Obvious villain choices are some sort of Klingon (dude. Have you seen that forehead?) or Khan Noonien Singh, the super-strong cryogenically frozen villain who caused all sorts of shit in the original Star Trek TV series and returned in the franchise's second film Star Trek II: The Wrath of Khan. He was originally played by Mexican actor Ricardo Montalbán, so Puerto Rican-born del Toro would be a reasonably consistent choice (ignoring the fact that the character was nominally Indian). We'd like to see him play the Borg Queen, but nobody listens to us.
Which Star Trek villain should Benicio del Toro play? Let us know below!
About The Author