Keanu Reeves gets his kung fu on with Man of Tai Chi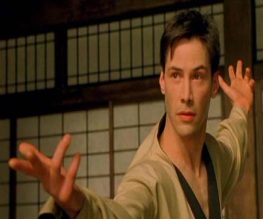 While the world waits in imperceptible anticipation for Bill and Ted's threequel, Keanu Reeves ain't resting on his ageless laurels. Instead, the immortal one is attempting to summon the sleeping dragon of kung fu cinema – double-team style. Not only is Reeves pushing forward with work on 47 Ronin, his samurai/ ninja-fest revenge story, but he's also aiming to get another martial arts film off the ground – and this one he wants to direct himself.
In an interview with MTV, Reeves revealed that he would play the villain in Man of Tai Chi, a modern-day homage to kung fu films of the past.
Though Reeves and his partners haven't yet bankrolled the production, they've got a script in place — one saturated in some good ole' bloodsport. "There's 18 fights. We've timed it out. It's about 40 minutes of fighting," he said. "I want to make a good, solid kung fu movie. Good story, good plot — but let's get some good kung fu going!"
Clearly, Reeves is a man of action; wooden action, but action nonetheless. And we damn well love him for it.
About The Author