LaBeouf hit with cease and desist letter; tweets it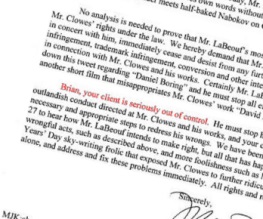 The Hobbit be damned; the most compelling saga to come out of Hollywood in recent years is clearly the ongoing story of Shia LaBeouf's mental collapse. The thieving, sky-writing, stinking and toothless actor has been almost constantly in the news of late for shamelessly plagiarising a comic and turning it into a short film, plagiarising BOTH his apologies to the author, sky-writing another apology in the air over a city where the poor bastard doesn't even live and, on an unconnected note, refusing to wash on the set of his new film. And, inevitably, the lawyers have caught up with him.
Yesterday, the former Transformers star tweeted this:
Story board for my next short "Daniel Boring" Its like Fassbinder meets half-baked Nabokov on Gilligan's Island pic.twitter.com/xMLvez8elQ

— Shia LaBeouf (@thecampaignbook) January 7, 2014
Although you may not recognise them, the name 'Daniel Boring', the pictures in Shia's storyboard AND the Fassbinder/Nabokov/Gilligan description are ALL plagiarised from the luckless Daniel Clowes, whose comic Justin M. Damiano formed the (unattributed) basis of LaBeouf's short film Howard Cantour.com. Clowes' lawyer, who has apparently been in touch with LaBeouf's legal team before now, responded with an understandably angry letter, which LaBeouf has published in full:
cease pic.twitter.com/PR41137k6Q

— Shia LaBeouf (@thecampaignbook) January 8, 2014
— Shia LaBeouf (@thecampaignbook) January 8, 2014
In case you're wondering, his next tweet did indeed read 'desist'. It contained a badly filtered monochrome version of his original Daniel Boring tweet, for reasons we can't really follow.
We can't really see where Shia can go from here. He's obviously going to get sued, and lose, but that can't be bothering him or he wouldn't be gloating (and, possibly, pre-emptively putting himself in contempt of court) by publishing Clowes' lawyer's letters. Is this the point at which we should genuinely stop reporting and call a doctor? Someone's got to do it, and it sure as hell won't be Optimus Prime.
What do you make of LaBeouf's latest misstep? Could this just be performance art? We sort of doubt it.
About The Author