Man with the Iron Fists trailer is most ridiculous thing ever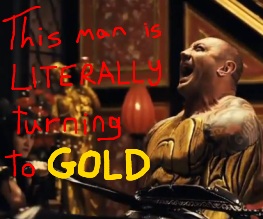 As if you needed another reason to be excited about Django Unchained, here's one – every time you see violent slave Thaddeus, played by RZA, you can interrupt the screening to shout "OH GOD I JUST REMEMBERED THE MAN WITH THE IRON FISTS!". We don't think we could be more excited if Ghostface Killah had popped round to Best For Film Towers to remind us.
You could be forgiven for having forgotten about the Wu-Tang Clan star's directorial debut – shooting began well over eighteen months ago and since then we've not heard much about the story of a blacksmith in provincial China who must take up arms to defend his village. And we mean 'take up arms' quite literally, since (as you might have guessed) what he basically does is builds himself the most kick-ass (punch-ass?) gauntlets known to man.
More to the point, we FINALLY have a trailer and it's the best thing ever. Watch this NOW:
"When you forge a weapon, you need three things. The right metal. Temperatures over 1400°. And someone you want to kill." YES RZA, YOU TELL THAT METALLURGY CONFERENCE! Probably. We don't think we can even pretend to be sensible about this trailer, so we're going to talk about it the only way we know how:
Clangy metal OOH QUENTIN hooded birdman SHINY MAD SWORDS drippy metal SWEATY RAPPER! Russell Crowe's spinny knife stabby stabby STABBY DAGGER TIME hissing hammer magic tattoo FISTIGONS! Eli Roth Generic China Lucy Liu Being Evil sexy lady jangly bell EXECUTION! Generic Heist Plot shiny death fan fan tension tension tension "ATTACK!" twirly fighters SMASHY CHAIRS lady's pants cherry blossom NECK STAB FOOT KNIFE THIGH GUN spinny fight Cowboy Crowe hookers = business stabbing = pleasure FLYING FAN OF DEATH improbable robes OH SHIT THAT MAN HAS TURNED TO GOLD.
Breathe. And:
THIS FALL NAKED GIRL CHAINY SEX MOUTH STAB SWORD THROW STAIR JUMP HEAD KICK ANVIL PUNCH PUT THE FUCK YOU BACK IN KUNG FU FLYING EYEBALL WIMPY SCREAMING DIR. RZA END.
We fucking love trailers like that. The lead character is barely in the bloody thing, since it's all cut from what looks like a single fight sequence – that either means most of the film is very boring or (much more likely) that it contains too much awesome to be viewed without special glasses. We so psyched.
Would you take on RZA? Obviously not, you'd have to be mental.
About The Author