New Actresses In Line For Captain America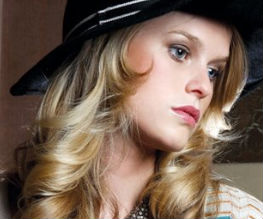 Now that Fantastic Four star Chris Evans has been confirmed to play the spandex-loving Captain himself, the hunt is on to find an actress to play his love interest, Peggy Carter, in the upcoming Captain America film. The latest news from Hollywood is that it's likely to be one of two British actresses: Alice Eve (pictured) or Hayley Atwell. Both have emerged as frontrunners during the ongoing screen testing for the part. Hayley Atwell had a minor part in 2008's The Duchess, alongside Keira Knightly, and Alice Eve is due to star in Sex and the City 2 later this year, but both are still relative unknowns. So polish up your American accents girls – this could be your big break!
Captain America is yet another Marvel comic adaptation, following in the footsteps of X-Men, Iron Man and The Incredible Hulk. It tells the story of Steve Rogers, a young boy transformed into a super hero during World War 2 to fight the Nazis (why is it always the Nazis??) and is due to be released in July 2011.
Looking forward to the Captain America film, or is this one superhero too many? Let us know below!
About The Author