New clip for Hammer's The Wake Wood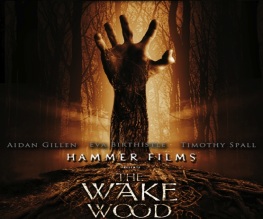 Hammer Films' have released the official clip of its latest production via Empire, The Wake Wood, the first British-Isles-set feature from the lately resurrected studio. The Wake Wood takes us into a remote village where city-slickers Patrick (Aiden Gillen) and Louise (Eva Birthistle) enlist the help of the necromancy-dabbling inhabitants in an attempt to bring their nine year-old daughter back from beyond the grave.
For those who missed it, here's the trailer, released earlier this year:

The flick is primed to be the next folk-horror classic, which may just be a charitable euphemism implying that The Wake Wood will be only be relevant amongst backwoods inter-breeders. But if you're a fan of proper Hammer, the collective blood count should be enough to entertain your refined sensibilities.
Wake Wood is out in cinemas for a limited theatrical release on March 25.
About The Author