New Contagion poster released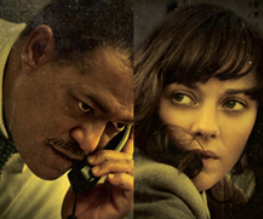 Gosh, it's all go for team contagion isn't it? Ever since we got a peek at the first trailer and character posters, the excitement has been spreading like… we're not going to say it.
So, in amongst all the YELLOW YELLOW YELLOW, we've got shots of the numerous fame-busting stars: Jude Law, Lawrence Fishburne, Matt Damon, Kate Winslet, Marion Cotillard, Gwyneth Paltrow – we're tired and moist just thinking about them. To be fair, the new poster doesn't show much in the way of new material, but heck, it's a slow day, let's just enjoy it:
We're pretty confident this medical-nightmare thriller is going to be pretty amazing. Though it's important to remember that you should never judge a film on the number of stars that feature (have we already forgotten the relentless toothy-barrage that was the New Year's Eve trailer?) generally speaking Damon, Law, Paltrow et al are actors that choose their roles wisely. 21st October, people. Get your handy-wipes ready.
About The Author