New image of Martin Freeman as Bilbo Baggins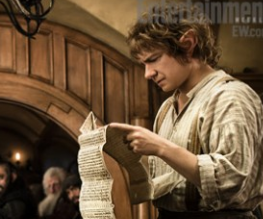 It's been a while since we've heard from Hobbiton, hasn't it? We've been dallying for so long with our rather more slinky mistress, The Dark Knight Rises, that we've shamefully been neglecting our hairier home duties. Well that's QUITE ENOUGH OF THAT. In an attempt to spice up our relationship, The Hobbit has bought a sexy pair of pants and is getting ready for a steamy night out. And by that we mean – they've released an image of Martin Freeman dressed as Bilbo Baggins. It's getting hot in here!
No sure, it's not like it's anything we've not seen in earlier shots, but do we really care about that? Do we really care about anything when Martin Freeman's baleful, cheery, tinged-with-a-touch-of-tragedy-none-of-us-can-ever-truly-know face is staring out at us? No. No we don't.
Is it just us, or is that the spark of adventure in his eyes? The Hobbit wont be hitting our screens until late 2012, but word is a first trailer might be but days away. DAYS AWAY. Screw you, Bane, you with your unintelligible, maddeningly charismatic words. Our heart belongs to Bilbo.
About The Author