New poster for Angelina Jolie's In the Land of Blood and Honey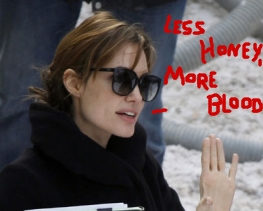 Angelina Jolie's first major writer/director project In the Land of Blood and Honey has just released it's first official poster. The film is set in the Bosnian War that ravaged the Balkan region through the 90s and has been shot almost entirely on location.
The drama looks to be emotionally taut and dramatically brutal, following the life of a Serbian and a Bosnian as they attempt to survive hardships of the war and maybe, just maybe, fall in love. Or alternatively kill each other. The poster naturally reflects this, depicting a stylised map of the Balkan region in a absolutely calm and normal WE LIED IT'S MADE OF BLOOD!
In addition to having a badass poster, the film is notable for having been filmed in both English and BHS (Bosanski/Hrvatski/Srpski), the official language of Bosnia, rather than being later dubbed over. Even more interesting is the fact that the film's US release is going to be in BHS, with English subtitles, and the English language version is only going to be available on DVD.
Pretension or authenticity? You decide. (It's the first one).
About The Author