New poster for Underworld: Awakening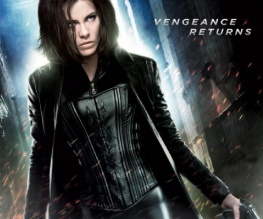 Oh look! It's a new poster for the latest Underworld film! Doesn't it feel like we've been waiting for this for YEARS?! Too long, people who are responsible for these films! It's just been too long. The populace demands more posters!
Underworld: Awakening, directed by Måns Mårlind and Björn Stein (two directors? Really?) is set fifteen years after the end of Underworld: Evolution (which is like fifteen MINUTES in vampire years). It follows Selene (Kate Beckinsale) waking from a coma to find that she has a werewolf/vampire daughter and that Scott Speedman is the dad. What a hilarious nightmare! It then turns into a comedy drama about the three of them living together and Scott Speedman always leaving the toilet seat up and Selene being SO uptight but then learning to loosen up and love her man the way he is by the end of the film. If that's not the way this film goes then all of us here at BFF will eat our hats. So have a look at the poster below (click to go large).
Wow! That's so unlike any of the other Underworld posters that have gone before! What we love most about it is that it is so specific to the film. For instance, we're fairly sure that in none of the other films does Kate wear a completely leather outfit, or hold two guns, or look like she means business. That's why this poster is so fresh! Also we love the tagline: "Vengeance returns". We're so excited to find out who Vengeance is! He sounds fun.
What are your thoughts on this poster, Human-folk? Let us know below.
About The Author