New trailer for Michelle Williams and Seth Rogen's Take This Waltz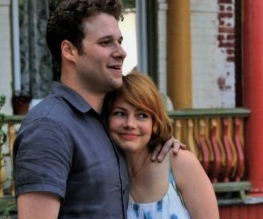 Superbad stars Seth Rogen and Jonah Hill seemed to manage 2011 very well indeed. Whilst their contemporaries were producing horrible bits of guff (Hangover Part II, The Change-Up, Jack And Jill etc etc) they quietly showed that they had more to give than gross-out comedy, starring in 50/50 and Moneyball respectively. Now whilst it seems unlikely that Rogen is going to abandon his comedy roots altogether, judging by the trailer for his next flick Take This Waltz he certainly wants to continue to be taken seriously. Good for him, we say. You see Adam Sandler? You see how sometimes, comedy can be nice rather than face-wretchingly horrible?
He stars alongside Michelle Williams (My Week With Marylin) in Take This Waltz; an indie comedy-romancey-drama about a woman finding herself in a state of melancholic inertia. Happily married to Lou (Rogen) for five years, she can't help but find herself drawn to an enigmatic artist by the name of Daniel (Luke Kirby) – and one smiley turn on a fair-ground ride later, you can all guess the outcome…
What do we reckon? It's a little Like Crazy -ish with the whimsical voice-over narration, but then again we can't imagine Sarah Silverman lending her talents to anything overly saccherine. All in all we're intrigued. It's not that often that you get a look at a rom-drama that doesn't look bloody awful (HELLO The Vow), so we'll keep our feelings peeled.
About The Author