Nike to Release Shoes from Back to the Future Pt. II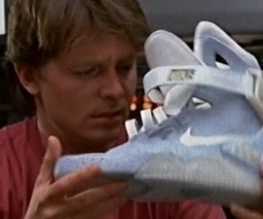 Finally, the most long-awaited piece of eighties movie memorabilia is coming to a mass consumer market near you.
No, it's not a hover board.
No, it's not a souped-up Delorean.
It's uhm… remember those shoes from the second movie? The ones that Marty
got in 2015 that lace themselves? Yeah, those. Except they don't lace themselves.
The new Nike MAG is said to be a perfect replica of the shoes that Marty puts on in the movie, or aesthetically they are anyway: "down to the contours of the upper, the glowing LED panel and the electroluminescent Nike in the strap. The Nike MAG illuminates with the pinch of the "ear" of the high top, glowing for five hours per charge". So they don't lace themselves, they don't form around your foot, and they don't make you Marty McFly. Honestly, the more we hear about them the more pants they sound, but all the proceeds go directly to the Michael J. Fox foundation for Parkinson's, so that's nice. 1500 pairs of the trainers will be auctioned on Ebay from yesterday to the 18th of September.
Will you be buying a pair of Nike MAGs or will you be holding out for the 2015 pair?
About The Author