Partridge Flies Onto The Big Screen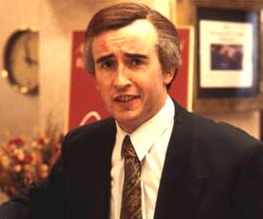 It's enough to make anyone in Norwich weep. After what seems like an eternity and more false leads than we care to think of, the broadcasting behemoth that is Alan Partridge may soon be making his Hush-Puppied way towards the silver screen.
In a chat with Empire magazine, Steve Coogan spoke frankly about work finally starting on the project. The eclectic comedian was playing his cards fairly close to his chest when it came to who he's working on with the project – so our money's on the fact it's someone big (but whether that's a studio, distributor, producer or director… heck, we wouldn't like to say). Either way, it looks like Partridge is making his movie Stateside, but Coogan is keen not to Americanise it, which hopefully means we'll be keeping much of Partridge's delightfully reactionary, middle-England faux pas.
A script initally concerning an Al-Qaeda siege was dropped after the July 7th bombings, and as yet another screenplay has yet to be put into production. Filming will apparently take place sometime at the end of next year.
What are your thoughts on the return of the Partridge? Dark chocolate Toblerone, or more like Monkey Tennis? Leave us your comments below!
About The Author