Paul Bettany cast in The Avengers: Age of Ultron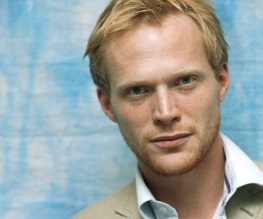 Practically translucent English actor Paul Bettany is set to make his first appearance in the Marvel Cinematic Universe, having already lent his delicious voice to a number of films.
Bettany, who voiced Tony Stark/Iron Man's AI assistant J.A.R.V.I.S. in all three Iron Man films plus Avengers Assemble, will finally have to change out of his pyjamas to play heroic android Vision, who turns against his evil creator Ultron to become a vital asset to the Avengers. It's not clear whether he'll carry on lending his voice to Iron Man – although for now, of course, we don't know how Tony 'no suits' Stark is going to be involved at all.
As a synthetic being, Vision's speed, strength, agility and senses all run far beyond the theoretical apex of human abilities, and he's also able to fling solar energy around after absorbing it through his forehead (?) and play around with his density, which sounds like a really fun trick to be able to pull. Apparently, one of his specialities in combat is to lower his density so much that he becomes virtually intangible, push his arm through someone and then become very dense, very quickly.
Production begins next month on Joss Whedon's The Avengers: Age of Ultron, which will be in cinemas next summer; we could look up the date, but it's not like you're going to put it in your diary right now. We're looking forward to seeing how Pauly, who doesn't have a great track record when it comes to blockbusters (cf The Da Vinci Code, Legion, Priest) shapes up. Maybe he's just better at playing robots.
Do you want to see Paul Bettany's actual face? Let us know below!
About The Author