Piranha 3D 2 – there's no escape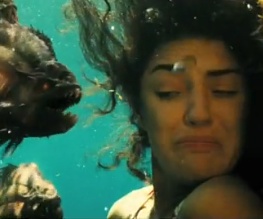 After the surprise success of Piranha 3D (it's gotten medium to positive reviews across the board, as well as being rated 83% fresh in the hallowed halls of Rotten Tomatoes), it's been confirmed that a sequel is on the way. More beautiful and naked flesh being torn asunder? Erm, hurrah?
The decision presumably hangs on the fact that the fish-fest cost a mere $24 million to make, and took close to $10 million in its opening weekend. This points towards a healthy return on Dimension's investment, and as we all know, artistic integrity is nothing in comparison to a big, steaming wad of cash.
Piranha 3D producer Mark Canton said, "We are thrilled that audiences are not just loving Piranha 3D, but cheering for it. And it's fantastic that so many critics are really getting the movie and recommending. We can't wait to get to work on the sequel."
There's no denying that the film has a gory tongue-in-cheek appeal, as well as a star studded cast that includes Richard Dreyfuss, Ving Rhames, Kelly Brook Elisabeth Shue, Christopher Lloyd and Jerry O'Connell. Have a look at the trailer below, and decide for yourself. Are you desperate for a second course of the fishy tale?
About The Author