Facebook bosses descend on The Social Network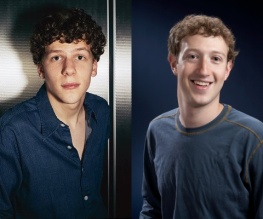 Mark Zuckerberg and other Facebook executives have been at loggerheads with a group of filmmakers portraying the birth of the social network for their film… The Social Network.
Director David Fincher's forthcoming drama, which will star Jesse Eisenberg as billionaire übernerd Zuckerberg, is based on an unauthorised book charting the early years of Facebook and has been produced without any liaison with the company itself.
Facebook executives, who have seen the film ahead of its release, reportedly object to the film's overall tone – Zuckerberg is portrayed as hungry for power, money and girls – as well as specific controversial scenes. In one, Napster co-founder Sean Parker (Justin Timberlake) gives a speech whilst flanked by teenage girls racking up lines on their bare breasts. Best For Film team meetings are never like that…
Producer Scott Rudin has insisted that his team is still releasing "exactly the movie [they] wanted to make", so Facebook may have to ignore the film and hope the viewing public does too. We'll reserve judgement.
The Social Network is released in the UK on 15th October.
About The Author