Preview: A Prophet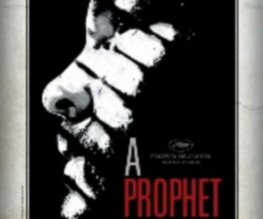 One of the most hotly anticipated films of the year, A Prophet is the next film from the multi-award winning French director Jacques Audiard, whose 2005 De battre mon cœur s'est arrêté, better to known to us Englishers as The Beat That My Heart Skipped, earned a gritty, world-weary place in the hearts of critics and audiences alike.
A Prophet is primarily a prison movie, but this ain't no life affirming Shawshank Redemption-style weepy. It's the story of Malik (Tahar Rahim), an illiterate petty criminal whose crimes and misdemeanours soon see him behind bars. Naïve and not exactly the most physically imposing of chaps, Malik has to rely on his wits to survive in the harsh prison environment. Falling in with a bunch of ruthless Corsican gangsters, Malik begins to work his way up the criminal rungs, completing a series of increasingly horrific 'favours' for his mafia taskmasters. Before long, Malik is feared and respected enough to start building his own network of stooges and underlings.
Already compared to Martin Scorsese's mafia epic Goodfellas, A Prophet looks likely to repeat the critical and commercial success of The Beat That My Heart Skipped. Time Out called it "thoughtful and, although very uncomfortable at points, incredibly entertaining", while The Guardian was even more effusive in its praise, stating that it "shows Audiard to be the biggest beast in new French cinema". A Prophet is a dark, driven thriller that goes far beyond its genre limitations to provide an intelligent analysis of a dog-eat-dog world without compromising on its entertainment value. Plus, it's a French film so you'll look pretty swanky and intellectual and that when you buy a ticket. It's win-win!
A Prophet is released nationwide on the 22nd January
About The Author