Preview: A Single Man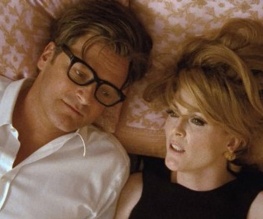 Last week was a busy one for our favourite Mr. Darcy. Not only did Colin Firth announce his plans to return as Mark Darcy in another Birdget Jones movie, he also scooped a Best Actor nomination for this year's Oscars for his work in A Single Man. Released on the 12th February and based on the novel by Christopher Isherwood, A Single Man tells the story of gay British professor, George Falconer (Firth), living in 1960's California.
His life has ripped apart by the death of his partner and he subsequently decides that death is more bearable than living on through his grief – the film depicts his planned last day before he takes his life.
[FLOWPLAYER=http://uk.clip-1.filmtrailer.com/3667_9344_a_3.flv,275,180]
Aside from Colin Firth's already lauded performance the film is also the directorial début of fashion designer and photographer Tom Ford, who we're expecting to bring a highly visually and stylised quality to the film.
Plus with a supporting cast that includes Julianne Moore (Children of Men) Nicholas Hoult (About a Boy) and Matthew Goode (Watchmen), we're expecting this one to be huge! Check back soon for our official review.
About The Author