Alan Partridge: The Movie?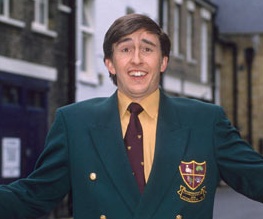 After years of being stuck in pre-production, rumour mills and the yarns of old wives, it could be that finally, the Alan Partridge film is actually going to get made.
For those who never had a proper comedy education, Alan Partridge is the brain child and alter-ego of actor. Steve Coogan Partridge first entered our lives as a spoof sports commentator on Radio 4's On The Hour, but his brilliantly inane, brash and tactless mannerisms soon outgrew the show and Coogan scored his own BBC programme I'm Alan Patridge. The last outing for the character was in 2002, and since then Coogan has gone on to acting roles in films such as Tropic Thunder, Night At The Museum and Around The World In 80 Days. For all his success though, we never quite forgave Steve for dumping the beloved character that made him famous. But perhaps finally our grief will be put to rest. Perhaps now the time has come to resurrect Alan Partridge.
According to Coogan, a final decision will be made this month as to whether the Partridge movie will get the go ahead or not. According to Empire magazine, the story would centre on Alan trying to re-launch his career in America with, inevitably, disastrous results. In terms of confirming whether all this is actually worth getting excited about, everyone involved is keeping rather annoyingly quiet. However, Partridge writer Armando Iannucci did tease his twitter followers (and thus, the world) by tweeting "Thought I might add fuel to rumour-fires by saying been spending last few days plotting a Partridge story."
Are you ready for Alan to take on the world? Or should Coogan leave his classic character in the past?
About The Author