Rise of the Guardians gets new TV spot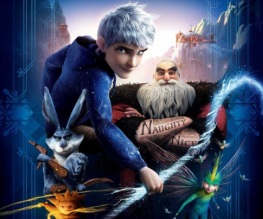 Well this is fun, eh? Nice little Rise of the Guardians TV spot from Dreamworks. Bunch of kids, just shootin' the breeze, chattin' about elves and that, looking overwhelmingly bored, up to and including the point where one of them falls off a chair into a pane of glass.
Everyone loves glass, yes? Check out the clip (complete with arbitrary children) below:
The trailer (briefly) melted our cold and cynical hearts here at BFF – Hugh Jackman was a bunny, the music was rousing, there was a dinosaur made of sand – but all these Dreamworks TV spots have caused our hearts to once again freeze over with apathy.
In this new bit of nonsense, some children sit in a classroom and quietly imply with their cold, dead eyes that they didn't really like the film. That Voice Over Man saying 'Hugely entertaining' is generally a code for 'meh' and the quote 'The Perfect Movie' has to forlornly be followed with '…to kick off the holiday season'. Disappointingly, Rise of the Guardians, brought to you by the creators of the marvellous How to Train Your Dragon, might be a bit, you know, yeah, alright. Which is a shame because Hugh Jackman is a bunny.
Are you excited about Rise of the Guardians? Tell us EXACTLY how excited below:
About The Author